This is an alphabetical listing of the producers who attend the Wirral Farmers' Market. Please note that not all traders attend every market. If you wish to apply for stall please find out more here.
Adams and Russell
Product: Hand roasted coffee from around the world. Established over 30 years. Also loose leaf teas.
Contact: www.adamsandrussell.co.uk
Other information: Can order online.
Beef Direct
Product: Not only beef but lamb, pork and mutton as well!
Contact: 01248 470387, www.beefdirect.net
Other information: You can pre-order and pick up at the market to save queuing! One of Rick Stein's Food Heroes.
Bees and Honey
Product: Honey and wax products.
From local beekeepers on the Wirral.
Contact: 0151 648 3744
Bryn Cocyn Organic Farm
Product: Beef and Lamb produced on the oldest organic farm in Wales.

Organic seasonal vegetables and fruit. Apple juice.
Contact: www.bryncocynorganic.co.uk
Other information: Contact us if your would like to call in to the farm
Patrick is returning to the Market on 8th June 2019
Creative Seafoods
Product: Fresh and frozen seafoods.

Contact:Paul Barrah at paulbarrah@btinternet.com
Other information: Order for collection.
Dolwen Farm Shop
Product: Fresh lamb, beef and pork.
Contact: 01492 680209
Other information: Farm shop in in Cefn Franm Dolwen, Abergele.
Ena Pa African and Caribbean Spices and Sauces
Product: Sauces, Salad dressing, Curry, Pepper Soup Mix, French Caribbean salsa
Contact: 07984188749   enapspices.sauces@gmail.co.uk
French Corner
Product: Bread, croissants baked by French bakers in the North West!
Contact: 0151 521 3500 or Facebook
Hannah's Indian Food
Product: Complete range of Indian foods including samosas, naan, curries and rice. To take home and can be frozen
Contact: www.hannahrestaurant.co.uk/
Other information: Call for event catering.
H.S. Bourne Cheshire Cheeses
Product: Range of Cheshire cheeses including blue, smoked and organic.
Contact: www.hsbourne.co.uk
Other information: Family firm in business over 100 years.
Ian Lloyd, Leadgate Farm
Product: Eggs – hen, duck and goose. Including the famous 'double yolkers'.
Contact: 01829 781376
Other information: Also available in shops across the region.

John Jones Farm
Product: Locally grown fruit & vegetables.
Contact: www.heathlanefarmshop.co.uk
Other information: Farm shop in Heath Lane, Childer Thornton open 9.00-4.30 Friday and 9.00-1.00 on Saturday.
Magill's Nursery
Product: Selling shrubs, plant, trees, ornaments and pottery for your garden.
Contact: 0151 639 6784
Other information: Nursery, Leasowe Rd, Wallasey.
Mehrab Paad
Product: Greek food (all types of olives), Homemade dolmados, feta cheese, Baklava, Turkish delight
Contact: farmolives@yahoo.co.uk
Other information: 07539858531
Mrs Kirkhams Lancashire Cheese
Product: Range of hand made cheeses handcrafted on their farm for 3 generations.
Contact: www.mrskirkhams.com
Other information: Taste our cheeses on our stall.
Neales
Product: Vegetables, potatoes and free range eggs. Jams and chutneys.
Contact: www.thefarmburscough.co.uk
Phone 01704 892247
Other information: Also have B&B on their farm.
Nonna Terasa
Product: Italian homemade pasta and sauces including ravioli.
Contact: 0796 628 0530. luciocorciulo@tiscali.co.uk.
Other information: Prepared for oven or freezer.
Nova Restaurant
Product: Meringues, cookies, scones, scotch eggs, pies, sausage rolls, brownies, cakes
Contact: 07852553549
Other information: 015103429959
Ollie's Orchard
Product: Apple juice in bottles from local apple orchard. Sweet and Dry versions.
Contact: Ollie's website
Other information: None
P.D. Willacy
Product: Turkey, chicken,
Contact: 01253 883470
Other information: Springfield Farm, Poulton-le-Fylde.
Real Lancashire Black Pudding Co.
Product: R.S. Ireland produce black, white and vegetarian puddings
Contact: 01706 231029
Other information: Award winning, including one of Rick Stein's Food Heroes.
Ravenrose Preserves
Product: Jams, preserves and chutney.
Contact: ravenrosepreserves@gmail.com
Other information: Order and pick up at the market.
Shaw Meats
Product: Meats and game, including salamis, sausages and home cured bacon.
Contact: www.shawmeats.co.uk
Other information:
Saco Superfoods
Product: Ginger Flakes, Hibiscus Flower, Baobab Powder and Organic Dries Mango
Plus Hot drinks Ginger and Lemon tea, Hibiscus and orange tea, cold drinks Hibiscus flower juices
Contact: info@sacotradingltd.com
Other information: All foods are 100% natural and ethically sourced from the Ivory Coast, working with women cooperatives
Tiresford Yoghurt
Product: Yoghurt and Cheese from their herd of Guernsey cows.
Contact:01829 734080
Other information: Produced in Tarporley.
Truly Scrumptious Pates and Spreads
Product: Tasty homemade pates and spreads, ideal for freezing too!.
Contact: Facebook
Other information: Vegetarian pates available.
Ultramarino
Product: Tinned fish and seafood pate from Spain and Portugal
Contact: info@ultramarino.co.uk
Other information: 07491574474
The Bakehouse Wirral
Product: Middle eastern rustic bakes including
Bourekas, strombolis, Lahmas and Kofta
Contact: thebakehousewirral@gmail.com
Other information: 07815319476
The Wild Pear Bakehouse
Product: Organic sourdough bread, fruit sourdough bread, croissants,
Danish Pastries and other sweet sour dough products such as Chelsea Buns
Contact: thewildpearbakehouse@hotmail.com
Other information: 07710964723
Windsor's Fruit Liqueurs
Product: Homemade liqueurs and shrubs. From Damson Gin to Rhubarb Vodka.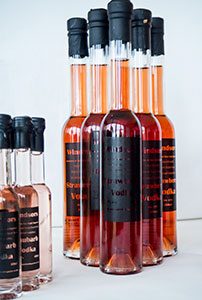 Contact: www.windsorsfruitliqueurs.uk
Other information: Pre-order for collection.