This is an alphabetical listing of the producers who attend the Wirral Farmers' Market. Please note that not all traders attend every market. If you wish to apply for stall please find out more here.

Adams and Russell
Product: Hand roasted coffee from around the world. Established over 30 years. Also loose leaf teas.
Contact: www.adamsandrussell.co.uk
Other information: Can order online.
Beech Avenue Brewery
Product: Locally brewed beers
Contact: BeechAvBrew@outlook.com
Other information:
Beef Direct
Product: Not only beef but lamb, pork and mutton as well!
Contact: 01248 470387, www.beefdirect.net
Other information: You can pre-order and pick up at the market to save queuing! One of Rick Stein's Food Heroes.
Born to Bake
Product: A wide variety of breads, sour doughs and brownies
Contact: info@borntobake.online
H.S. Bourne Cheshire Cheeses
Product: Range of Cheshire cheeses including blue, smoked and organic.
Contact: www.hsbourne.co.uk, contact@hsbourne.co.uk
Other information: Family firm in business over 100 years.
The Camels Hump
Product: Authentic Lebanese bakery – vegetarian, vegan and meat dishes, Falafel, mezze, vine leaves, olives, Baklawa, cakes
Contact: aymanghasheh@yahoo.com
Other information: 07478142022
Creative Seafoods
Product: Fresh and frozen seafoods.

Contact: creativeseafoods@hotmail.co.uk
Other information: Order for collection.
Dolwen Farm Shop
Product: Fresh lamb, beef and pork.
Contact: 01492 680209
Other information: Farm shop in in Cefn Franm Dolwen, Abergele.
Gourmet Brownie Company

Product: Hand-made, hand-finished Gourmet Brownies and Brownie Flapjacks in over 80 flavours including gluten free
Contact: 07903235577
Other information: gourmetbrownieco@gmail.com

Ian Lloyd, Leadgate Farm
Product: Eggs – hen, duck and goose. Including the famous 'double yolkers'.
Contact: 01829 781376
Other information: Also available in shops across the region.
Just the Cheese
Product: Lancashire cheese
Contact: 07468620575
Other information: justthecheese@gmx.com, purveyors of fine cheeses, hand made and a variety of flavours
John Jones Farm
Product: Locally grown fruit & vegetables.
Contact: www.heathlanefarmshop.co.uk
Other information: Farm shop in Heath Lane, Childer Thornton open 9.00-4.30 Friday and 9.00-1.00 on Saturday.

Little Bear Fudgery
Product: Handmade fudge, spoonful fudge jars and hand layered artisan baking kits including vegan and gluten free
Contact: littlebearsfudgery@gmail.com
Contact: 07533683518
Other information: During the winter months we are selling Hot Chocolate Fudge to warm you up as you shop
Magill's Nursery
Product: Selling shrubs, plant, trees, ornaments and pottery for your garden.
Contact: 0151 639 6784
Other information: Nursery, Leasowe Rd, Wallasey.
Currently not attending
Mehrab Paad
Product: Greek food (all types of olives), Homemade dolmados, feta cheese, Baklava, Turkish delight
Contact: farmolives@yahoo.co.uk
Other information: 07539858531
Currently not attending due to Covid-19 restrictions
Nonna Terasa
Product: Italian homemade pasta and sauces including ravioli.
Contact: 0796 628 0530. luciocorciulo@tiscali.co.uk.
Other information: Prepared for oven or freezer.
North by Sud-Quest Charcuterie Ltd
Product: Charcuterie made with traditional production methods – air dried cured meats and cooked cured meats
Contact: 07516739406
Other information: northbysudouest@gmail.com
Nova Restaurant
Product: Meringues, cookies, scones, scotch eggs, pies, sausage rolls, brownies, cakes
Contact: 07852553549
Other information: info@novarestaurants.co.uk
P.D. Willacy
Product: Turkey, chicken,
Contact: 01253 883470
Other information: Springfield Farm, Poulton-le-Fylde.
Pen-y-Lan Pork
Product: Sausages, Bacon, hand-made meatballs
Contact: 07815078648
Other information: mikeford01@googlemail.com
Powell Pies
Product: Pork pies, sweet pickled onions and English mustard
Contact: 07967828142
Other information: powells.pies@btinternet.com
Our pies are made to our own family recipe which has been handed down through four generations. Made by hand.
Real Lancashire Black Pudding Co.
Product: R.S. Ireland produce black, white and vegetarian puddings
Contact: 01706 231029
Other information: Award winning, including one of Rick Stein's Food Heroes.
Ravenrose Preserves
Product: Jams, preserves and chutney.
Contact: ravenrosepreserves@gmail.com
Other information: Order and pick up at the market.
Tiresford Yoghurt
Product: Yoghurt and Cheese from their herd of Guernsey cows.
Contact:01829 734080
Other information: Produced in Tarporley.
Truly Scrumptious Pates and Spreads
Product: Tasty homemade pates and spreads, ideal for freezing too!.
Contact: Facebook
Other information: Vegetarian pates available.
Windsor's Fruit Liqueurs
Product: Homemade liqueurs and shrubs. From Damson Gin to Rhubarb Vodka.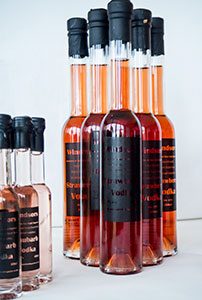 Contact: www.windsorsfruitliqueurs.uk
Other information: Pre-order for collection.